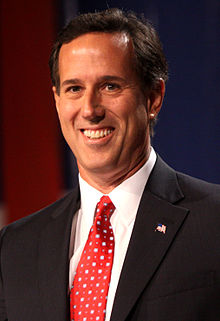 VS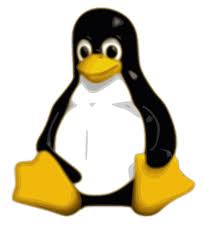 Unlike Al Gore, Rick Santorum makes no claims to being the "Technology Candidate." After all, he's not the inventor of the Internet. And, yet his clear Pro-Life stance will certainly impact the world of programmers, technology, and the Internet. While his agenda has yet to be made public, the unspoken word is clear -- He is here to save programmers. To save them from a world lacking morality. A world called "Unix."

The Roots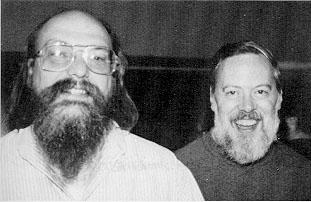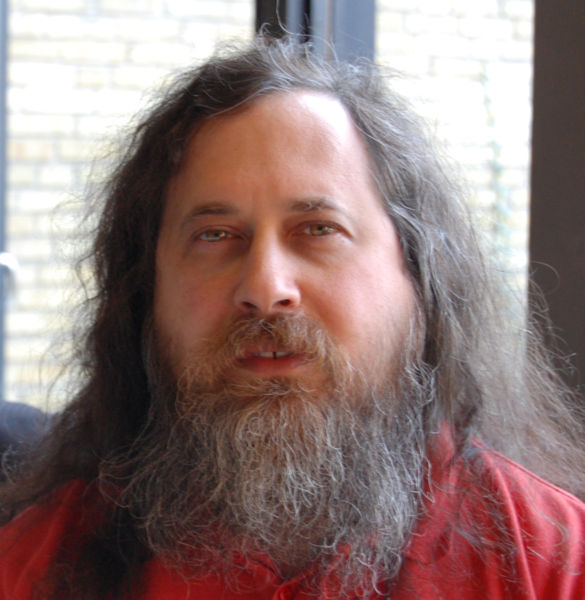 The beginning of modern programming started basically in the 1960's and flourished in the 1970's. The liberal agenda beginning with the Kennedy administration combined with the birth of modern "Time Sharing Systems" followed by personal computers created a "perfect storm." These decreasingly expensive computational devices empowered Individual, encouraged radical thoughts, and challenged the tyranny of the main frame. The radicals creating Unix had names and faces -- people like Dennis Ritchie, Ken Thompson, and Brian Kernighan followed by Richard Stallman, Bill Joy, Marshall Kirk McCrusick and others. Typically long haired and bearded, these men were out to change the natural order of the time. Could they be trusted? While almost always denied, accusations of being communists were commonplace. Just by looking at at this motley crew, you have to wonder.

Dig down beneath the seamy exterior, their moral fiber is quickly revealed. Clearly radicals, they had their own "Bible" -- a book far different that the Bible known to you and me -- authored by Ritchie and Kernighan.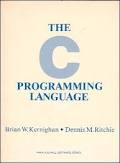 Their mascot? The devil himself!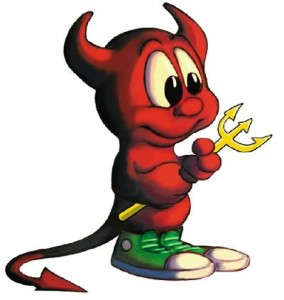 From this, a world far different than that created by God was created. A world called "
Unix
." This world had a language all of it's own with a lexicon not understandable by mortals: "Awk," "grep," "sed, "ed," "vi"....this list goes on. It is a secret language -- a code -- used by the technical elite -- to control, transform and rule the world. To special decoder, called
"permuted index"
was created to decipher the language. However, the decoder itself was also incomprehensible to any one on the outside.
These people must be saved! Unfortunately, programmers flocked to Unix, creating a following that would change the world like no other movement, other than -- Christianity!
The Language of Evil
Sitting in on early conversations with these bearded radicals, we are able to truly understand the evil and why they must be saved. The world of Unix is a world of evil. A world where we casually and commonly talk of:
- "aborting your children"
- "sending signals to kill"
- "debating why ABORT is better than TERM"
- "fingering your co-workers"
- "operating in promiscuous mode"
- "chmod 666"
- "accessing your friends private members" (a relative new concept introduced by
Bjarne Stroustrup
)
And, in this world, children come from an process of "spawning" -- fork() and exec()? This is not God's plan. This is not natural.
Fortunately, the newbie programmers of the 21st century are sheltered from much of this unpolished and rampant evil. New virtual, interpreted environments on top of Unix have been created. Thus, new programmers need not be exposed to such evil. But, underneath bubbles the cauldron of bad.
The Unspoken Agenda: New Hope to Free Us from the Depravity


Can Rick Santorum save us from the depravity of it all? Can Rick get to the core of the problem? Can he free us from this life of Hell and set us straight?
A secret memo yet to be released says baby steps must be taken and core issues must be addressed first. His Pro-Life agenda make it clear what the priorities are:
First, pragmatically speaking, we can't get rid of SIGABORT immediately. However, we must legislate that
whenever a process aborts a child, its parent must be notified first.

Next, more radically, SIGKILL, SIGABORT, and kill(1) must be removed from the operating system. Killing is wrong and abortion even worst. Who will protect our unborn children?
Next we must review the tools of the devil that cause us harm. Inappropriate commands are to be removed or renamed. head(1), tail(1), top(1) are at the top of the list. Clearly these overtly sexual if not homosexual references must be banned.
We must never allow our children to be killed our aborted. Rampant deviant sexual acts -- e.g. promiscuous access to your "privates" allowed by members within in a class (just because they are "friends"), "fingering" anyone you want -- must end. Don't even get me started when a parent shares a pipe with a child. Stop it all!
Last, because of its play on words that mock our nonsecular Christian world,
bash
(the Bourne Again Shell) shall be banned. That's not funny.
Unix: Evil at Its Core


Ultimately, no matter what Rick does to clean up this mess, I think it must be acknowledged -- At the core of this problem is Unix. And, Unix is evil, as revealed in its name -- a pun and homophone of
eunuchs
. Indeed, it's an operating system named after and acknowledges the ultimate act of a "no mo"-sexuality. Ritchie, Thompson, and Kernighan mock us. We must rid the world of Unix. (Note: "Unix" is actually a play on "
Multics
," but we'll ignore that fact.)
Stop Unix today! Whether it be Linux, FreeBSD, Mac OS, or System V, they are all bad.
Only with Rick Santorum can we eliminate this scourge on our country!
(
Microsoft
has not commented for this piece.)


A Programmer's Response


Rick Santorum considered harmful. A statement of where he can go to has yet to be issued.